This Ice Cream Trailer has been designed around a large capacity Soft Serve Freezer which is capable of holding up to 9 different flavours.
This Trailer is a single axle 3mtr Caterpod holding full European Community Whole Vehicle Type Approval (ECWVTA). It includes stainless steel counters to each side of the Display Freezer as well as the complete rear counter, stainless steel mirror finish decorative front, food safe internal liner, 16amp power supply with 2 double sockets and is also sprayed to a colour of your choice (non metallic paints only).
The Serving Freezer is a Tefcold ICE 400SCE + Canopy that includes:
• Attractive Curved Glass Canopy
• Sloping Tub Display For Excellent Presentation
• Lockable Sliding Lids
• Fan Assisted Condenser
• Temperature Range Suitable For Scooping
• Holds Napoli Size Plastic Tubs Without The Need To Purchase Stainless Steel Pans
• Storage Under Tubs (Tubs Not Supplied)
• This model will accept 9 Tubs (this range accepts plastic Napoli tubs – stainless steel pans not required)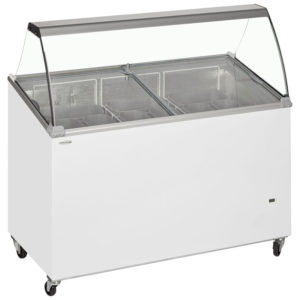 To satisfy Health & Safety Requirements for Hot & Cold running water this Trailer is also fitted with a system that includes:
• Truma Therme Water heater – rated at just 300watts, this 5 litre water heater requires minimal power to run
• Flojet water pump
• Whale Chrome mixer tap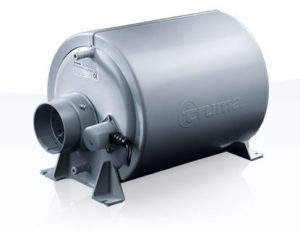 Graphics play an important part in promoting your brand and standing out from the competition, so as well as a full Design Support Service, this Caterpod comes with 'Front of House' Graphics coverage including (Graphics packages can be tailored to suit if required):
• Serving hatch
• Lower Front Panel
• Interior Back wall
• Serving hatch sign
Optional extras for this Trailer include a large capacity Vestfrost Chest Freezer, OR a Polar Display fridge (please note that due to space requirements, it is not possible to include both the Chest Freezer and the Display Fridge). To discuss any other potential options that you may have in mind,  please contact us through our main website.