About

Us

Ice Cream Trailer Pods are part of the Caterpod Brand and Manufactured by Leisure Pods Ltd who are based in Alvington, South Gloucestershire.

Every care and detail is given to creating a Quality, Professional Solution that not only meets all of the legal requirements for use on the roads through Europe, but a solution that will stand the test of time providing an excellent return on investment.

Based in Alvington and run by 2 Business Partners, the Company is dedicated to investment in youth and supports the National Apprenticeship Programme.  The Company has a wealth of experience relating to Manufacturing, Engineering and Procurement and is backed up by an established Supply Chain who themselves have vast experience in their fields.

Here at Caterpods we recognise that a desirable reputation is based on Customer Experience, so every effort is taken to ensure that both the service and the product exceed your expectations.
Ice

Cream Pod Price List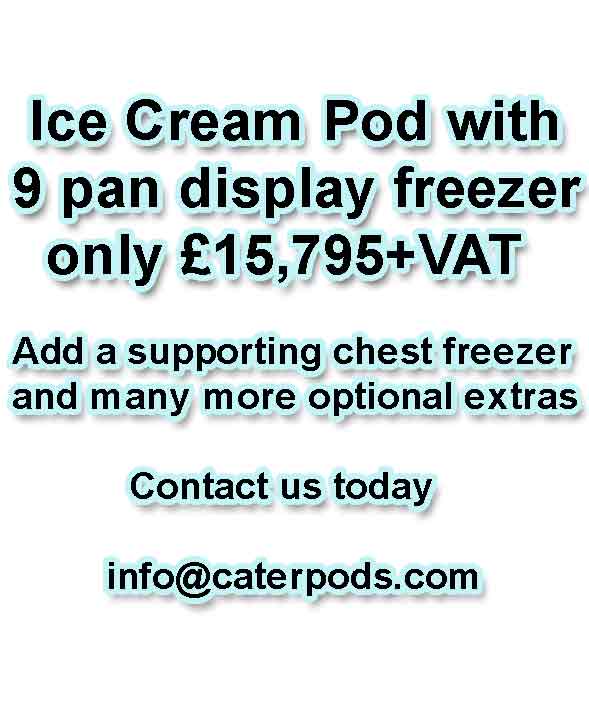 In

Just 6 Easy Steps You Can Own Your Very Own Ice Cream Pod!

3D

Panoramic Viewer
The service we rec'd from the guys was second to none - We were quite specific about the layout and features within our Pod and the end result was better than we could have possibly imagined. We traveled almost the entire length of the country with the pod when we picked it up to come home and every single time we stopped we were approached about it. To say we are delighted, not just with the Pod, but with the whole overall buying experience would be an understatement!
Highly recommend Caterpods. The standard of the build is extremely high, with James and Tom thinking of everything! A very professional service, they were very supportive during the build of the pod, and put up with me changing my mind a lot! It's a very unique product that really catches the eye. Very good value for money, I would most certainly use them again if and when I expand to two pods.
We collected our Caterpod 3 days ago and we are so in love with it. James & Tom were helpful and patient all the way through the process and helped us to think things through in different ways. Great communication all the way through as well - can't fault them
Absolutely delighted with my Pod! The product and service provided by Tom, James and Gareth is amazing. It's astounding that they can supply such high quality is such a short space of time – only 6 weeks from placing an order to collection, brilliant! Lots of people comment on the style and size of the pod and are surprised at how much kit you can easily fit in; it's a Tardis! The graphics really catch peoples eye, which is great and already getting me into events and markets. Would thoroughly recommend Caterpod to anyone wanting a catering trailer. It's not just a trailer it's an AWESOME CATERPOD. Thank you guys, I love my pod. Luci
Just bought a Caterpod from these guys. Their communication was second to none. They were a pleasure to deal with from start to finish. The Caterpod itself is top quality and worth every penny. Highly recommended!